impacts
Social connectedness
Enhanced social connectivity between residents, other system players and organisations within neighbourhoods led to positive impacts on resilience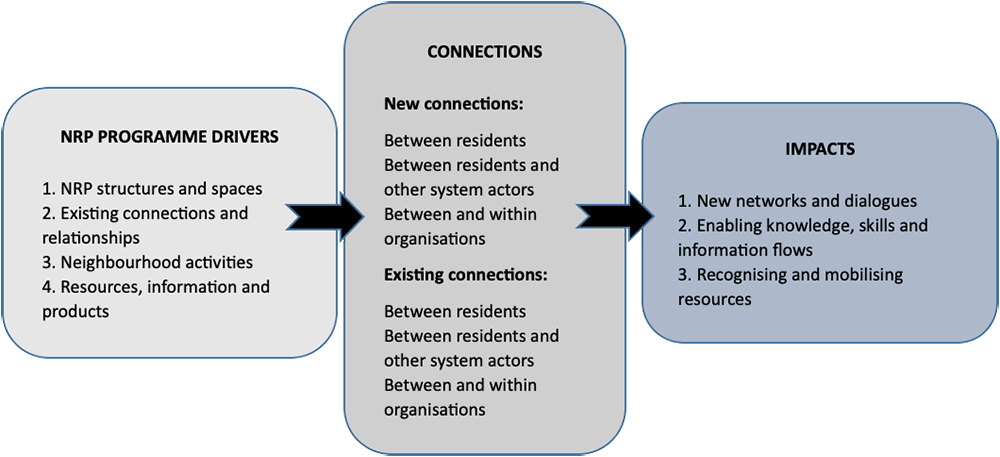 Social connectedness
The NRP had a noticeable impact on the nature and extent of social connectivity in the neighbourhood systems. The diagram highlights the pathways from components of the NRP to enhanced connectivity between different system players to positive impacts on resilience identified in the evaluation.
This enhanced connectivity was reported consistently across system players. It helped to break down long established barriers to new more inclusive forms of collective action for change co-created by residents, staff of local agencies and Community Research and Engagement Network (COREN) staff.
Staff from public, third sector and private sector organisations also reported new connections within and across their organisations increasing information flows and opening up new opportunities for collaboration. Systems theory suggests that these connections could, if sustained, contribute to 'transformative change' in the longer term.
It has really encouraged or increased the amount of interactions with the Public Health team have with our Environment team and our relationships improved because of that, which then has other spin off in terms of other pieces of work.
Public health Practitioner
I no longer feel like just a resident .. what the project has done successfully is to show me how I can make a difference and by the connections that the project has allowed I can ask the questions to the right people. Which is big part of being an influencer in your community.
Resident